Comms Monitoring Graphs
Below is the ARQ percent and totals. Links to specific dates can be found beneath the ARQ graph. Click the graphs to download pdf versions.
More details can be found on the CWRU PAOwiki (cuyam) and in the Comms GAP draft.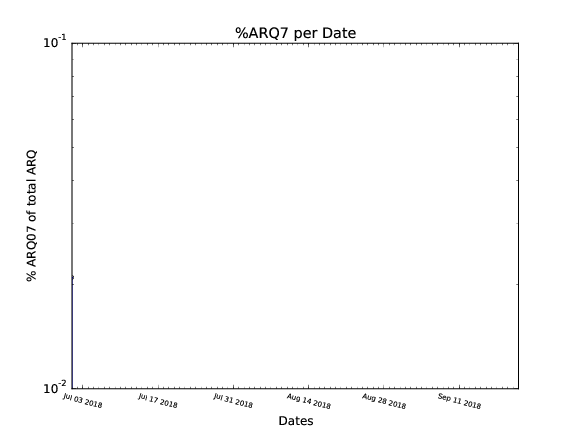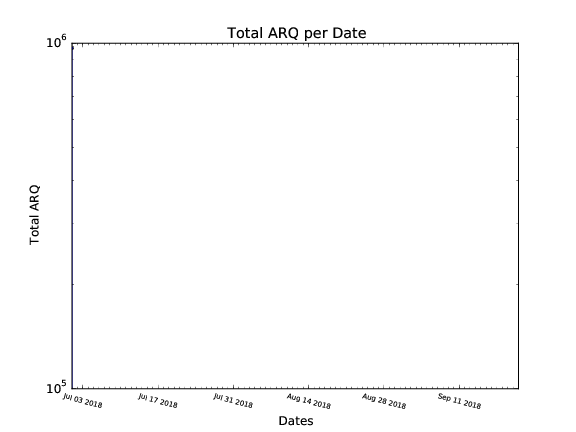 Here is a list of the ARQ percentages seen in the graph above.
Data are available for the following dates. Please click the date to access the graphs for that day. There is a small bug between March2012 and June2012 where the BSU min and max temperatures are labeled in reverse.
2019-10-19
2019-10-18
2019-10-17
2019-10-16
2019-10-15
2019-10-14
2019-10-13
2019-10-12
2019-10-11
2019-10-10
2019-10-09
2019-10-08
2019-10-07
2019-10-06
2019-10-05
2019-10-04
2019-10-03
2019-10-02
2019-10-01
2019-09-30
2019-09-29
2019-09-28
2019-09-27
2019-09-26
2019-09-25
2019-09-24
2019-09-23
2019-09-22
2019-09-21
2019-09-20
2019-09-19
2019-09-18
2019-09-17
2019-09-16
2019-09-15
2019-09-14
2019-09-13
2019-09-12
2019-09-11
2019-09-10
2019-09-09
2019-09-08
2019-09-07
2019-09-06
2019-09-05
2019-09-04
2019-09-03
2019-09-02
2019-09-01
2019-08-31
2019-08-30
2019-08-29
2019-08-28
2019-08-27
2019-08-26
2019-08-25
2019-08-24
2019-08-23
2019-08-22
2019-08-21
2019-08-20
2019-08-19
2019-08-18
2019-08-17
2019-08-16
2019-08-15
2019-08-14
2019-08-13
2019-08-12
2019-08-11
2019-08-10
2019-08-09
2019-08-08
2019-08-07
2019-08-06
2019-08-05
2019-08-04
2019-08-03
2019-08-02
2019-08-01
2019-07-31
2019-07-30
2019-07-29
2019-07-28
2019-07-27
2019-07-26
2019-07-25
2019-07-24
2019-07-23
2019-07-22
2019-07-21
2019-07-20
2019-07-19
2019-07-18
2019-07-17
2019-07-16
2019-07-15
2019-07-14
2019-07-13
2019-07-12
2019-07-11
2019-07-10
2019-07-09
2019-07-08
2019-07-07
2019-07-06
2019-07-05
2019-07-04
2019-07-03
2019-07-02
2019-07-01
2019-06-30
2019-06-29
2019-06-28
2019-06-27
2019-06-26
2019-06-25
2019-06-24
2019-06-23
2019-06-22
2019-06-21
2019-06-20
2019-06-19
2019-06-18
2019-06-17
2019-06-16
2019-06-15
2019-06-14
2019-06-13
2019-06-12
2019-06-11
2019-06-10
2019-06-09
2019-06-08
2019-06-07
2019-06-06
2019-06-05
2019-06-04
2019-06-03
2019-06-02
2019-06-01
2019-05-31
2019-05-30
2019-05-29
2019-05-28
2019-05-27
2019-05-26
2019-05-25
2019-05-24
2019-05-23
2019-05-22
2019-05-21
2019-05-20
2019-05-19
2019-05-18
2019-05-17
2019-05-16
2019-05-15
2019-05-14
2019-05-13
2019-05-12
2019-05-11
2019-05-10
2019-05-09
2019-05-08
2019-05-07
2019-05-06
2019-05-05
2019-05-04
2019-05-03
2019-05-02
2019-05-01
2019-04-30
2019-04-29
2019-04-28
2019-04-27
2019-04-26
2019-04-25
2019-04-24
2019-04-23
2019-04-22
2019-04-21
2019-04-20
2019-04-19
2019-04-18
2019-04-17
2019-04-16
2019-04-15
2019-04-14
2019-04-13
2019-04-12
2019-04-11
2019-04-10
2019-04-09
2019-04-08
2019-04-07
2019-04-06
2019-04-05
2019-04-04
2019-04-03
2019-04-02
2019-04-01
2019-03-31
2019-03-30
2019-03-29
2019-03-28
2019-03-27
2019-03-26
2019-03-25
2019-03-24
2019-03-23
2019-03-22
2019-03-21
2019-03-20
2019-03-19
2019-03-18
2019-03-17
2019-03-16
2019-03-15
2019-03-14
2019-03-13
2019-03-12
2019-03-11
2019-03-10
2019-03-09
2019-03-08
2019-03-07
2019-03-06
2019-03-05
2019-03-04
2019-03-03
2019-03-02
2019-03-01
2019-02-28
2019-02-27
2019-02-26
2019-02-25
2019-02-24
2019-02-23
2019-02-22
2019-02-21
2019-02-20
2019-02-19
2019-02-18
2019-02-17
2019-02-16
2019-02-15
2019-02-14
2019-02-13
2019-02-12
2019-02-11
2019-02-10
2019-02-09
2019-02-08
2019-02-07
2019-02-06
2019-02-05
2019-02-04
2019-02-03
2019-02-02
2019-02-01
2019-01-31
2019-01-21
2019-01-20
2019-01-19
2019-01-18
2019-01-17
2019-01-16
2019-01-15
2019-01-14
2019-01-13
2019-01-12
2019-01-11
2019-01-10
2019-01-09
2019-01-08
2019-01-07
2019-01-06
2019-01-05
2019-01-04
2019-01-03
2019-01-02
2019-01-01
2018-12-31
2018-12-30
2018-12-29
2018-12-28
2018-12-27
2018-12-26
2018-12-25
2018-12-24
2018-12-23
2018-12-22
2018-12-21
2018-12-20
2018-12-19
2018-12-18
2018-12-17
2018-12-16
2018-12-15
2018-12-14
2018-12-13
2018-12-12
2018-12-11
2018-12-10
2018-12-09
2018-12-08
2018-12-07
2018-12-06
2018-12-05
2018-12-04
2018-12-03
2018-12-02
2018-12-01
2018-11-30
2018-11-29
2018-11-28
2018-11-27
2018-11-26
2018-11-25
2018-11-24
2018-11-23
2018-11-22
2018-11-21
2018-11-20
2018-11-19
2018-11-18
2018-11-17
2018-11-16
2018-11-15
2018-11-14
2018-11-13
2018-11-12
2018-11-11
2018-11-10
2018-11-09
2018-11-08
2018-11-07
2018-11-06
2018-11-05
2018-11-04
2018-11-03
2018-11-02
2018-11-01
2018-10-31
2018-10-30
2018-10-29
2018-10-28
2018-10-27
2018-10-26
2018-10-25
2018-10-24
2018-10-23
2018-10-22
2018-10-21
2018-10-20
2018-10-19
2018-10-18
2018-10-17
2018-10-16
2018-10-15
2018-10-14
2018-10-13
2018-10-12
2018-10-11
2018-10-10
2018-10-09
2018-10-08
2018-10-07
2018-10-06
2018-10-05
2018-10-04
2018-10-03
2018-10-02
2018-10-01
2018-09-30
2018-09-29
2018-09-28
2018-09-27
2018-09-26
2018-09-25
2018-09-24
2018-09-23
2018-09-22
2018-09-21
2018-09-20
2018-09-19
2018-09-18
2018-09-17
2018-09-16
2018-09-15
2018-09-14
2018-09-13
2018-09-12
2018-09-11
2018-09-10
2018-09-09
2018-09-08
2018-09-07
2018-09-06
2018-09-05
2018-09-04
2018-09-03
2018-09-02
2018-09-01
2018-08-31
2018-08-30
2018-08-29
2018-08-28
2018-08-27
2018-08-26
2018-08-25
2018-08-24
2018-08-23
2018-08-22
2018-08-21
2018-08-20
2018-08-19
2018-08-18
2018-08-17
2018-08-16
2018-08-15
2018-08-14
2018-08-13
2018-08-12
2018-08-11
2018-08-10
2018-08-09
2018-08-08
2018-08-07
2018-08-06
2018-08-05
2018-08-04
2018-08-03
2018-08-02
2018-08-01
2018-07-31
2018-07-30
2018-07-29
2018-07-28
2018-07-27
2018-07-26
2018-07-25
2018-07-24
2018-07-23
2018-07-22
2018-07-21
2018-07-20
2018-07-19
2018-07-18
2018-07-17
2018-07-16
2018-07-15
2018-07-14
2018-07-13
2018-07-12
2018-07-11
2018-07-10
2018-07-09
2018-07-08
2018-07-07
2018-07-06
2018-07-05
2018-07-04
2018-07-03
2018-07-02
2018-07-01
2018-06-30
2018-06-29
2018-06-28
2018-06-27
2018-06-26
2018-06-25
2018-06-24
2018-06-23
2018-06-22
2018-06-21
2018-06-20
2018-06-19
2018-06-18
2018-06-17
2018-06-16
2018-06-15
2018-06-14
2018-06-13
2018-06-12
2018-06-11
2018-06-10
2018-06-09
2018-06-08
2018-06-07
2018-06-06
2018-06-05
2018-06-04
2018-06-03
2018-06-02
2018-06-01
2018-05-31
2018-05-30
2018-05-29
2018-05-28
2018-05-27
2018-05-26
2018-05-25
2018-05-24
2018-05-23
2018-05-22
2018-05-21
2018-05-20
2018-05-19
2018-05-18
2018-05-17
2018-05-16
2018-05-15
2018-05-14
2018-05-13
2018-05-12
2018-05-11
2018-05-10
2018-05-09
2018-05-08
2018-05-07
2018-05-06
2018-05-05
2018-05-04
2018-05-03
2018-05-02
2018-05-01
2018-04-30
2018-04-29
2018-04-28
2018-04-27
2018-04-26
2018-04-25
2018-04-24
2018-04-23
2018-04-22
2018-04-21
2018-04-20
2018-04-19
2018-04-18
2018-04-17
2018-04-16
2018-04-15
2018-04-14
2018-04-13
2018-04-12
2018-04-11
2018-04-10
2018-04-09
2018-04-08
2018-04-07
2018-04-06
2018-04-05
2018-04-04
2018-04-03
2018-04-02
2018-04-01
2018-03-31
2018-03-30
2018-03-29
2018-03-28
2018-03-27
2018-03-26
2018-03-25
2018-03-24
2018-03-23
2018-03-22
2018-03-21
2018-03-20
2018-03-19
2018-03-18
2018-03-17
2018-03-16
2018-03-15
2018-03-14
2018-03-13
2018-03-12
2018-03-11
2018-03-10
2018-03-09
2018-03-08
2018-03-07
2018-03-06
2018-03-05
2018-03-04
2018-03-03
2018-03-02
2018-03-01
2018-02-28
2018-02-27
2018-02-26
2018-02-25
2018-02-24
2018-02-23
2018-02-22
2018-02-21
2018-02-20
2018-02-19
2018-02-18
2018-02-17
2018-02-16
2018-02-15
2018-02-14
2018-02-13
2018-02-12
2018-02-11
2018-02-10
2018-02-09
2018-02-08
2018-02-07
2018-02-06
2018-02-05
2018-02-04
2018-02-03
2018-02-02
2018-02-01
2018-01-31
2018-01-30
2018-01-29
2018-01-28
2018-01-27
2018-01-26
2018-01-25
2018-01-24
2018-01-23
2018-01-22
2018-01-21
2018-01-20
2018-01-19
2018-01-18
2018-01-17
2018-01-16
2018-01-15
2018-01-14
2018-01-13
2018-01-12
2018-01-11
2018-01-10
2018-01-09
2018-01-08
2018-01-07
2018-01-06
2018-01-05
2018-01-04
2018-01-03
2018-01-02
2018-01-01
2017-12-31
2017-12-30
2017-12-29
2017-12-28
2017-12-27
2017-12-26
2017-12-25
2017-12-24
2017-12-23
2017-12-22
2017-12-21
2017-12-20
2017-12-19
2017-12-18
2017-12-17
2017-12-16
2017-12-15
2017-12-14
2017-12-13
2017-12-12
2017-12-11
2017-12-10
2017-12-09
2017-12-08
2017-12-07
2017-12-06
2017-12-05
2017-12-04
2017-12-03
2017-12-02
2017-12-01
2017-11-30
2017-11-29
2017-11-28
2017-11-27
2017-11-26
2017-11-25
2017-11-24
2017-11-23
2017-11-22
2017-11-21
2017-11-20
2017-11-19
2017-11-18
2017-11-17
2017-11-16
2017-11-15
2017-11-14
2017-11-13
2017-11-12
2017-11-11
2017-11-10
2017-11-09
2017-11-08
2017-11-07
2017-11-06
2017-11-05
2017-11-04
2017-11-03
2017-11-02
2017-11-01
2017-10-31
2017-10-30
2017-10-29
2017-10-28
2017-10-27
2017-10-26
2017-10-25
2017-10-24
2017-10-23
2017-10-22
2017-10-21
2017-10-20
2017-10-19
2017-10-18
2017-10-17
2017-10-16
2017-10-15
2017-10-14
2017-10-13
2017-10-12
2017-10-11
2017-10-10
2017-10-09
2017-10-08
2017-10-07
2017-10-06
2017-10-05
2017-10-04
2017-10-03
2017-10-02
2017-10-01
2017-09-30
2017-09-29
2017-09-28
2017-09-27
2017-09-26
2017-09-25
2017-09-24
2017-09-23
2017-09-22
2017-09-21
2017-09-20
2017-09-19
2017-09-18
2017-09-17
2017-09-16
2017-09-15
2017-09-14
2017-09-13
2017-09-12
2017-09-11
2017-09-10
2017-09-09
2017-09-08
2017-09-07
2017-09-06
2017-09-05
2017-09-04
2017-09-03
2017-09-02
2017-09-01
2017-08-31
2017-08-30
2017-08-29
2017-08-28
2017-08-27
2017-08-26
2017-08-25
2017-08-24
2017-08-23
2017-08-15
2017-08-14
2017-08-13
2017-08-12
2017-08-11
2017-08-10
2017-08-09
2017-08-08
2017-08-07
2017-08-06
2017-08-05
2017-08-04
2017-08-03
2017-08-02
2017-08-01
2017-07-31
2017-07-30
2017-07-29
2017-07-28
2017-07-27
2017-07-26
2017-07-25
2017-07-24
2017-07-23
2017-07-22
2017-07-21
2017-07-20
2017-07-19
2017-07-18
2017-07-17
2017-07-16
2017-07-15
2017-07-14
2017-07-13
2017-07-12
2017-07-11
2017-07-10
2017-07-09
2017-07-08
2017-07-07
2017-07-06
2017-07-05
2017-07-04
2017-07-03
2017-07-02
2017-07-01
2017-06-30
2017-06-29
2017-06-28
2017-06-27
2017-06-26
2017-06-25
2017-06-24
2017-06-23
2017-06-22
2017-06-21
2017-06-20
2017-06-19
2017-06-18
2017-06-17
2017-06-16
2017-06-15
2017-06-14
2017-06-13
2017-06-12
2017-06-11
2017-06-10
2017-06-09
2017-06-08
2017-06-07
2017-06-06
2017-06-05
2017-06-04
2017-06-03
2017-06-02
2017-06-01
2017-05-31
2017-05-30
2017-05-29
2017-05-28
2017-05-27
2017-05-26
2017-05-25
2017-05-24
2017-05-23
2017-05-22
2017-05-21
2017-05-20
2017-05-19
2017-05-18
2017-05-17
2017-05-16
2017-05-15
2017-05-14
2017-05-13
2017-05-12
2017-05-11
2017-05-10
2017-05-09
2017-05-08
2017-05-07
2017-05-06
2017-05-05
2017-05-04
2017-05-03
2017-05-02
2017-05-01
2017-04-30
2017-04-29
2017-04-28
2017-04-27
2017-04-26
2017-04-25
2017-04-24
2017-04-23
2017-04-22
2017-04-21
2017-04-20
2017-04-19
2017-04-18
2017-04-17
2017-04-16
2017-04-15
2017-04-14
2017-04-13
2017-04-12
2017-04-11
2017-04-10
2017-04-09
2017-04-08
2017-04-07
2017-04-06
2017-04-05
2017-04-04
2017-04-03
2017-04-02
2017-04-01
2017-03-31
2017-03-30
2017-03-29
2017-03-28
2017-03-27
2017-03-26
2017-03-25
2017-03-24
2017-03-23
2017-03-22
2017-03-21
2017-03-20
2017-03-19
2017-03-18
2017-03-17
2017-03-16
2017-03-15
2017-03-14
2017-03-13
2017-03-12
2017-03-11
2017-03-10
2017-03-09
2017-03-08
2017-03-07
2017-03-06
2017-03-05
2017-03-04
2017-03-03
2017-03-02
2017-03-01
2017-02-28
2017-02-27
2017-02-26
2017-02-25
2017-02-24
2017-02-23
2017-02-22
2017-02-21
2017-02-20
2017-02-19
2017-02-18
2017-02-17
2017-02-16
2017-02-15
2017-02-14
2017-02-13
2017-02-12
2017-02-11
2017-02-10
2017-02-09
2017-02-08
2017-02-07
2017-02-06
2017-02-05
2017-02-04
2017-02-03
2017-02-02
2017-02-01
2017-01-31
2017-01-30
2017-01-29
2017-01-28
2017-01-27
2017-01-26
2017-01-25
2017-01-24
2017-01-23
2017-01-22
2017-01-21
2017-01-20
2017-01-19
2017-01-18
2017-01-17
2017-01-16
2017-01-15
2017-01-14
2017-01-13
2017-01-12
2017-01-11
2017-01-10
2017-01-09
2017-01-08
2017-01-07
2017-01-06
2017-01-05
2017-01-04
2017-01-03
2017-01-02
2017-01-01
2016-12-31
2016-12-30
2016-12-29
2016-12-28
2016-12-27
2016-12-26
2016-12-25
2016-12-24
2016-12-23
2016-12-22
2016-12-21
2016-12-20
2016-12-19
2016-12-18
2016-12-17
2016-12-16
2016-12-15
2016-12-14
2016-12-13
2016-12-12
2016-12-11
2016-12-10
2016-12-09
2016-12-08
2016-12-07
2016-12-06
2016-12-05
2016-12-04
2016-12-03
2016-12-02
2016-12-01
2016-11-30
2016-11-29
2016-11-28
2016-11-27
2016-11-26
2016-11-25
2016-11-24
2016-11-23
2016-11-22
2016-11-21
2016-11-20
2016-11-17
2016-11-16
2016-11-15
2016-11-14
2016-11-13
2016-11-12
2016-11-11
2016-11-10
2016-11-09
2016-11-08
2016-11-07
2016-11-06
2016-11-05
2016-11-04
2016-11-03
2016-11-02
2016-11-01
2016-10-31
2016-10-30
2016-10-29
2016-10-28
2016-10-27
2016-10-26
2016-10-25
2016-10-24
2016-10-23
2016-10-22
2016-10-21
2016-10-20
2016-10-19
2016-10-18
2016-10-17
2016-10-16
2016-10-15
2016-10-14
2016-10-13
2016-10-12
2016-10-11
2016-10-10
2016-10-09
2016-10-08
2016-10-07
2016-10-06
2016-10-05
2016-10-04
2016-10-03
2016-10-02
2016-10-01
2016-09-30
2016-09-29
2016-09-28
2016-09-27
2016-09-26
2016-09-25
2016-09-20
2016-09-06
2016-09-06
2016-08-23
2016-08-22
2016-08-21
2016-08-20
2016-08-19
2016-08-18
2016-08-17
2016-08-16
2016-08-15
2016-08-14
2016-08-13
2016-08-12
2016-08-11
2016-08-10
2016-08-09
2016-08-08
2016-08-07
2016-08-04
2016-08-03
2016-08-02
2016-08-01
2016-07-31
2016-07-30
2016-07-29
2016-07-28
2016-07-27
2016-07-26
2016-07-25
2016-07-24
2016-07-23
2016-07-22
2016-07-21
2016-07-20
2016-07-19
2016-07-18
2016-07-17
2016-07-16
2016-07-15
2016-07-14
2016-07-13
2016-07-12
2016-07-11
2016-07-10
2016-07-09
2016-07-08
2016-07-07
2016-07-06
2016-07-05
2016-07-04
2016-07-03
2016-07-02
2016-07-01
2016-06-30
2016-06-29
2016-06-28
2016-06-27
2016-06-26
2016-06-25
2016-06-24
2016-06-23
2016-06-22
2016-06-21
2016-06-20
2016-06-19
2016-06-18
2016-06-17
2016-06-16
2016-06-15
2016-06-14
2016-06-13
2016-06-12
2016-06-11
2016-06-10
2016-06-09
2016-06-08
2016-06-07
2016-06-06
2016-06-05
2016-06-04
2016-06-03
2016-06-02
2016-06-01
2016-05-31
2016-05-30
2016-05-29
2016-05-28
2016-05-27
2016-05-26
2016-05-25
2016-05-24
2016-05-23
2016-05-22
2016-05-21
2016-05-20
2016-05-19
2016-05-18
2016-05-17
2016-05-16
2016-05-15
2016-05-14
2016-05-13
2016-05-12
2016-05-11
2016-05-10
2016-05-09
2016-05-08
2016-05-07
2016-05-06
2016-05-05
2016-05-04
2016-05-03
2016-05-02
2016-05-01
2016-04-30
2016-04-29
2016-04-28
2016-04-27
2016-04-26
2016-04-25
2016-04-24
2016-04-23
2016-04-22
2016-04-21
2016-04-20
2016-04-19
2016-04-18
2016-04-17
2016-04-16
2016-04-15
2016-04-14
2016-04-13
2016-04-12
2016-04-11
2016-04-10
2016-04-09
2016-04-08
2016-04-07
2016-04-06
2016-04-05
2016-04-04
2016-04-03
2016-04-02
2016-04-01
2016-03-31
2016-03-30
2016-03-29
2016-03-28
2016-03-27
2016-03-26
2016-03-25
2016-03-24
2016-03-23
2016-03-22
2016-03-21
2016-03-20
2016-03-19
2016-03-18
2016-03-17
2016-03-16
2016-03-15
2016-03-14
2016-03-13
2016-03-12
2016-03-11
2016-03-10
2016-03-09
2016-03-08
2016-03-07
2016-03-06
2016-03-05
2016-03-04
2016-03-03
2016-03-02
2016-03-01
2016-02-29
2016-02-28
2016-02-27
2016-02-26
2016-02-25
2016-02-24
2016-02-23
2016-02-22
2016-02-21
2016-02-20
2016-02-19
2016-02-18
2016-02-17
2016-02-16
2016-02-15
2016-02-14
2016-02-13
2016-02-12
2016-02-11
2016-02-10
2016-02-09
2016-02-08
2016-02-07
2016-02-06
2016-02-05
2016-02-04
2016-02-03
2016-02-02
2016-02-01
2016-01-31
2016-01-30
2016-01-29
2016-01-28
2016-01-27
2016-01-26
2016-01-25
2016-01-24
2016-01-23
2016-01-22
2016-01-21
2016-01-20
2016-01-19
2016-01-18
2016-01-17
2016-01-16
2016-01-15
2016-01-14
2016-01-13
2016-01-12
2016-01-11
2016-01-10
2016-01-09
2016-01-08
2016-01-07
2016-01-06
2016-01-05
2016-01-04
2016-01-03
2016-01-02
2016-01-01
2015-12-31
2015-12-30
2015-12-29
2015-12-28
2015-12-27
2015-12-26
2015-12-25
2015-12-24
2015-12-23
2015-12-22
2015-12-21
2015-12-20
2015-12-19
2015-12-18
2015-12-17
2015-12-16
2015-12-15
2015-12-14
2015-12-13
2015-12-12
2015-12-11
2015-12-10
2015-12-09
2015-12-08
2015-12-07
2015-12-06
2015-12-05
2015-12-04
2015-12-03
2015-12-02
2015-12-01
2015-11-30
2015-11-29
2015-11-28
2015-11-27
2015-11-26
2015-11-25
2015-11-24
2015-11-23
2015-11-22
2015-11-21
2015-11-20
2015-11-19
2015-11-18
2015-11-17
2015-11-16
2015-11-15
2015-11-14
2015-11-13
2015-11-12
2015-11-11
2015-11-10
2015-11-09
2015-11-08
2015-11-07
2015-11-06
2015-11-05
2015-11-04
2015-11-03
2015-11-02
2015-11-01
2015-10-31
2015-10-30
2015-10-29
2015-10-28
2015-10-27
2015-10-26
2015-10-25
2015-10-24
2015-10-23
2015-10-22
2015-10-21
2015-10-20
2015-10-19
2015-10-18
2015-10-17
2015-10-16
2015-10-15
2015-10-14
2015-10-13
2015-10-12
2015-10-11
2015-10-10
2015-10-09
2015-10-08
2015-10-07
2015-10-06
2015-10-05
2015-10-04
2015-10-03
2015-10-02
2015-10-01
2015-09-30
2015-09-29
2015-09-28
2015-09-27
2015-09-26
2015-09-25
2015-09-24
2015-09-14
2015-09-13
2015-09-12
2015-09-11
2015-09-10
2015-09-09
2015-09-08
2015-09-07
2015-09-06
2015-09-05
2015-09-04
2015-09-03
2015-09-02
2015-09-01
2015-08-31
2015-08-30
2015-08-29
2015-08-28
2015-08-27
2015-08-26
2015-08-25
2015-08-24
2015-08-23
2015-08-22
2015-08-21
2015-08-20
2015-08-19
2015-08-18
2015-08-17
2015-08-16
2015-08-13
2015-08-12
2015-08-11
2015-08-10
2015-08-09
2015-08-08
2015-08-07
2015-08-06
2015-08-05
2015-08-04
2015-08-03
2015-08-02
2015-08-01
2015-07-31
2015-07-30
2015-07-29
2015-07-28
2015-07-27
2015-07-26
2015-07-25
2015-07-24
2015-07-23
2015-07-22
2015-07-21
2015-07-20
2015-07-19
2015-07-18
2015-07-17
2015-07-16
2015-07-15
2015-07-14
2015-07-13
2015-07-12
2015-07-11
2015-07-10
2015-07-09
2015-07-08
2015-07-06
2015-07-05
2015-07-04
2015-07-03
2015-07-02
2015-07-01
2015-06-30
2015-06-29
2015-06-28
2015-06-27
2015-06-26
2015-06-25
2015-06-24
2015-06-23
2015-06-22
2015-06-21
2015-06-20
2015-06-19
2015-06-18
2015-06-17
2015-06-16
2015-06-15
2015-06-14
2015-06-13
2015-06-12
2015-06-11
2015-06-10
2015-06-09
2015-06-08
2015-06-07
2015-06-06
2015-06-05
2015-06-04
2015-06-03
2015-06-02
2015-06-01
2015-05-31
2015-05-30
2015-05-29
2015-05-28
2015-05-27
2015-05-26
2015-05-25
2015-05-24
2015-05-23
2015-05-22
2015-05-21
2015-05-20
2015-05-19
2015-05-18
2015-05-17
2015-05-16
2015-05-15
2015-05-14
2015-05-13
2015-05-12
2015-05-11
2015-05-10
2015-05-09
2015-05-08
2015-05-07
2015-05-06
2015-05-05
2015-05-04
2015-05-03
2015-05-02
2015-05-01
2015-04-30
2015-04-29
2015-04-28
2015-04-27
2015-04-26
2015-04-25
2015-04-24
2015-04-23
2015-04-22
2015-04-21
2015-04-20
2015-04-19
2015-04-18
2015-04-17
2015-04-16
2015-04-15
2015-04-14
2015-04-13
2015-04-12
2015-04-11
2015-04-10
2015-04-09
2015-04-08
2015-04-07
2015-04-06
2015-04-05
2015-04-04
2015-04-03
2015-04-02
2015-04-01
2015-03-31
2015-03-30
2015-03-29
2015-03-28
2015-03-27
2015-03-26
2015-03-25
2015-03-24
2015-03-23
2015-03-22
2015-03-21
2015-03-20
2015-03-19
2015-03-18
2015-03-17
2015-03-16
2015-03-15
2015-03-14
2015-03-13
2015-03-12
2015-03-11
2015-03-10
2015-03-09
2015-03-08
2015-03-07
2015-03-06
2015-03-05
2015-03-04
2015-03-03
2015-03-02
2015-03-01
2015-02-28
2015-02-27
2015-02-26
2015-02-25
2015-02-24
2015-02-23
2015-02-22
2015-02-21
2015-02-20
2015-02-19
2015-02-18
2015-02-17
2015-02-16
2015-02-15
2015-02-14
2015-02-13
2015-02-12
2015-02-11
2015-02-10
2015-02-09
2015-02-08
2015-02-07
2015-02-06
2015-02-05
2015-02-04
2015-02-03
2015-02-02
2015-02-01
2015-01-31
2015-01-30
2015-01-29
2015-01-28
2015-01-27
2015-01-26
2015-01-25
2015-01-24
2015-01-23
2015-01-22
2015-01-21
2015-01-20
2015-01-19
2015-01-18
2015-01-17
2015-01-16
2015-01-15
2015-01-14
2015-01-13
2015-01-12
2015-01-11
2015-01-10
2015-01-09
2015-01-08
2015-01-07
2015-01-06
2015-01-05
2015-01-04
2015-01-03
2015-01-02
2015-01-01